XIAOMI HOME KENYA OFFICIAL AUTHORIZED STORE
XIAOMI SMART HUMIDIFIER 2
Regular price
KSh11,999.00
KSh0.00
Unit price
per
UV-C sterilization and purification for optimal comfort

4.5L tank capacity

Releases up to 350 mL of mist per hour 

Automatic mode to prevent excessive humidity |

One touch humidity control

Whisper-quiet 32 dB operation

Eliminates 99.9% of Bacteria
32Hrs continuous operation with full tank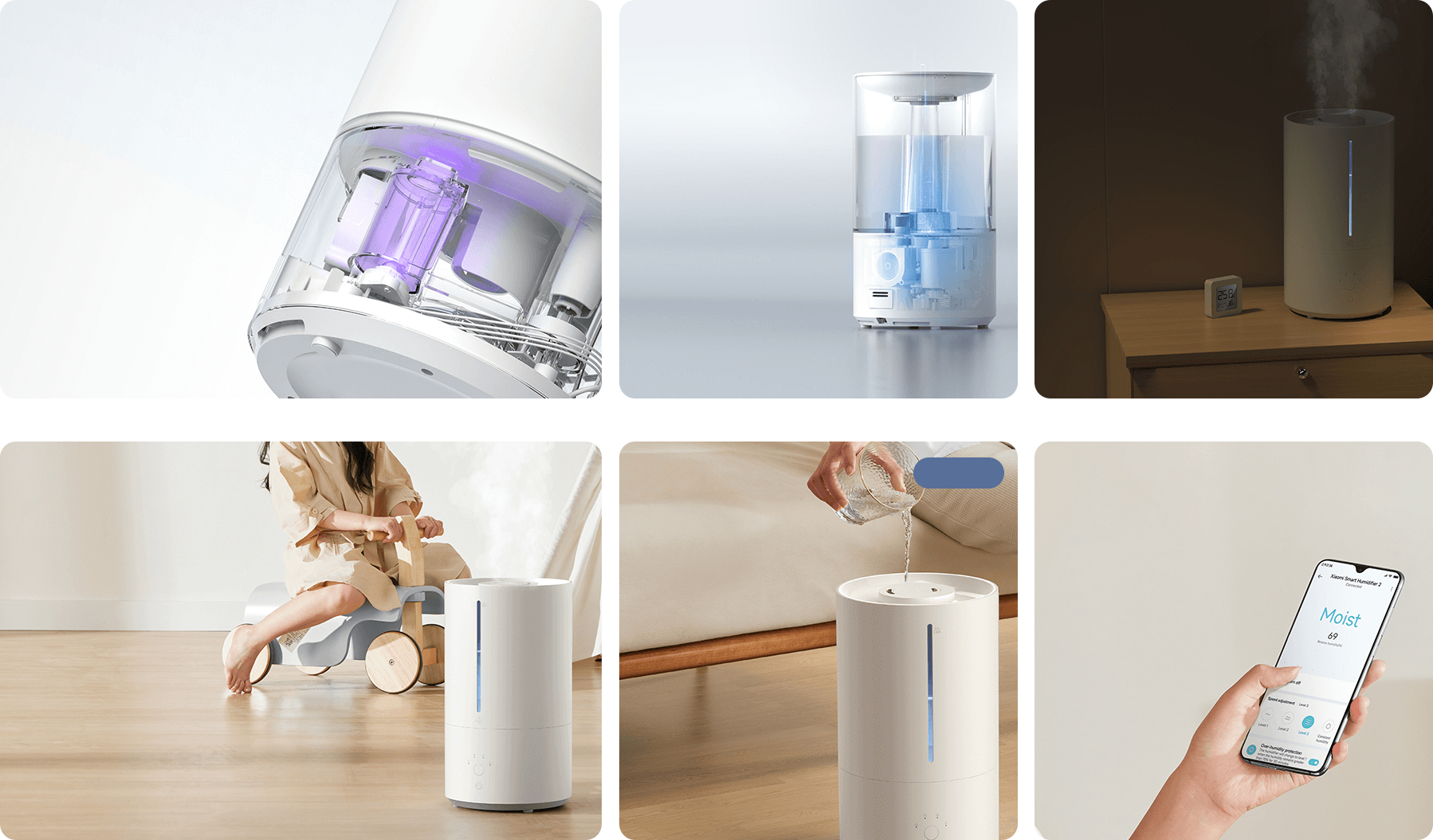 Add water without lifting the lid
Control remotely via Mi Home app
Automatic mode to prevent excessive humidity
Keep tabs on your surroundings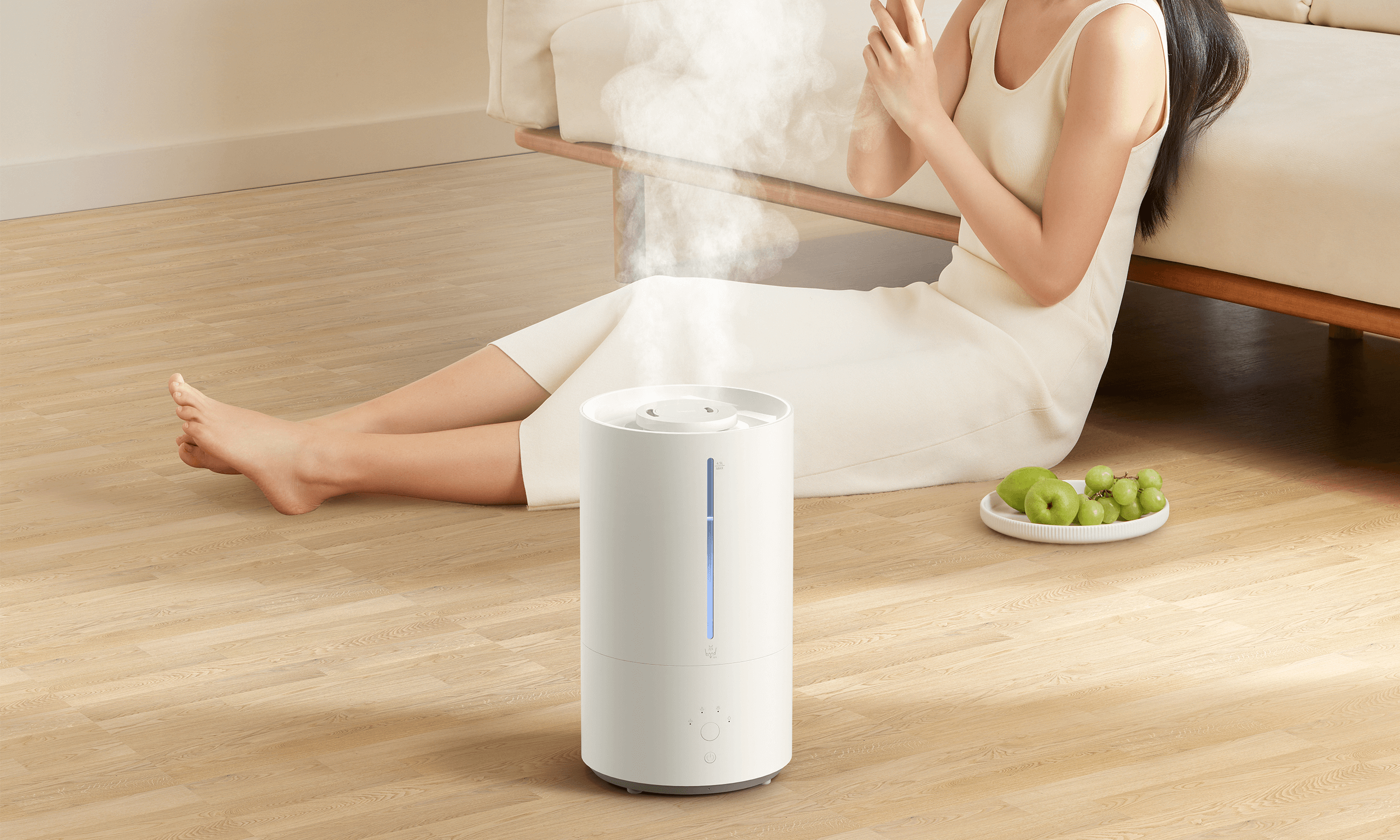 The perfect indoor environment ;Enjoy fresh mountain air in your own home
The humidifier uses UV-C ultraviolet sterilization technology to eliminate bacteria, and then releases purified mist to cleanse the surroundings.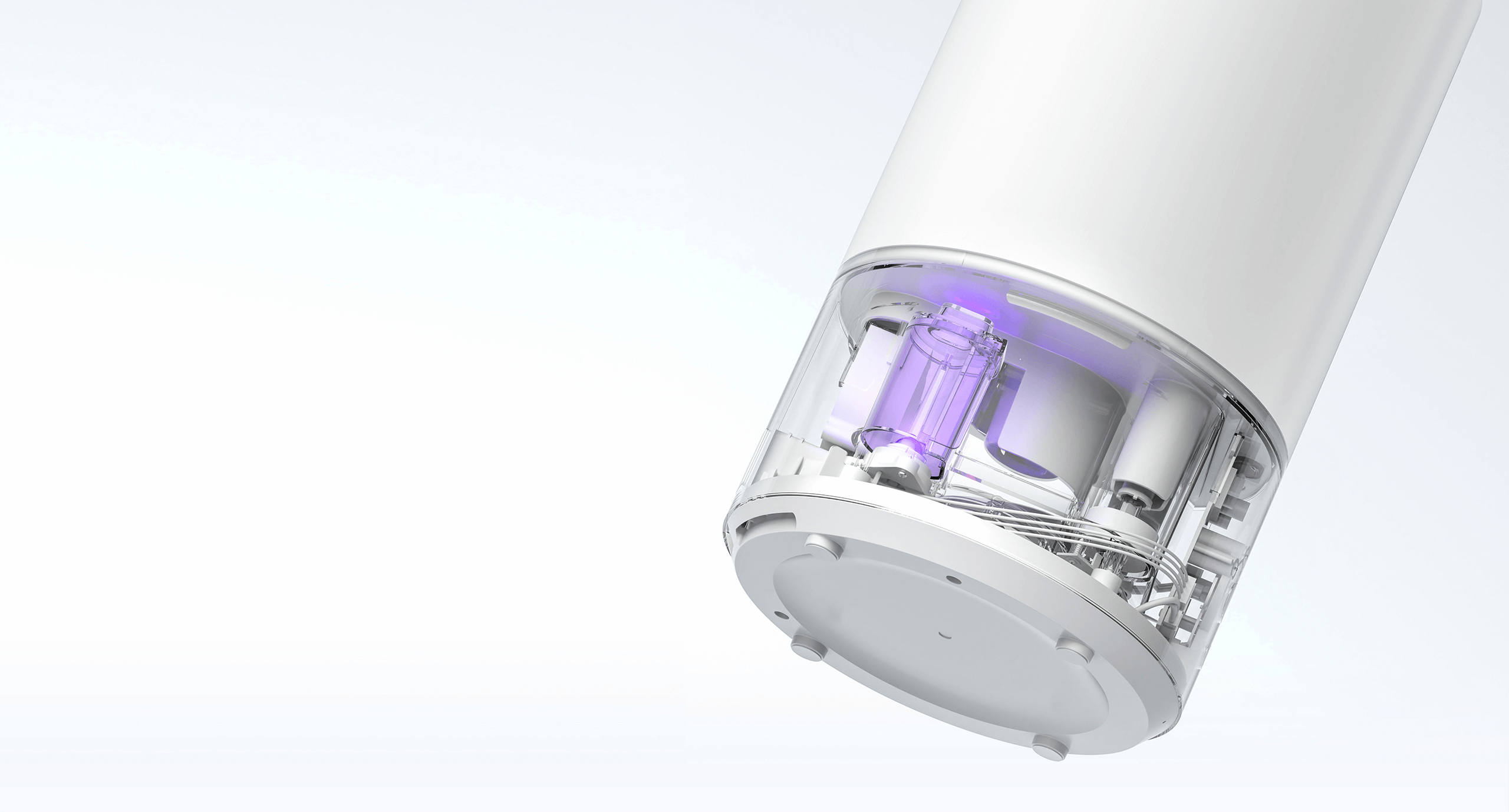 Powerful UV-C sterilization Purified mist for a cleaner environment
The UV-C ultraviolet sterilization technology eliminates up to 99.9% of bacteria before the water is released into the stream of mist.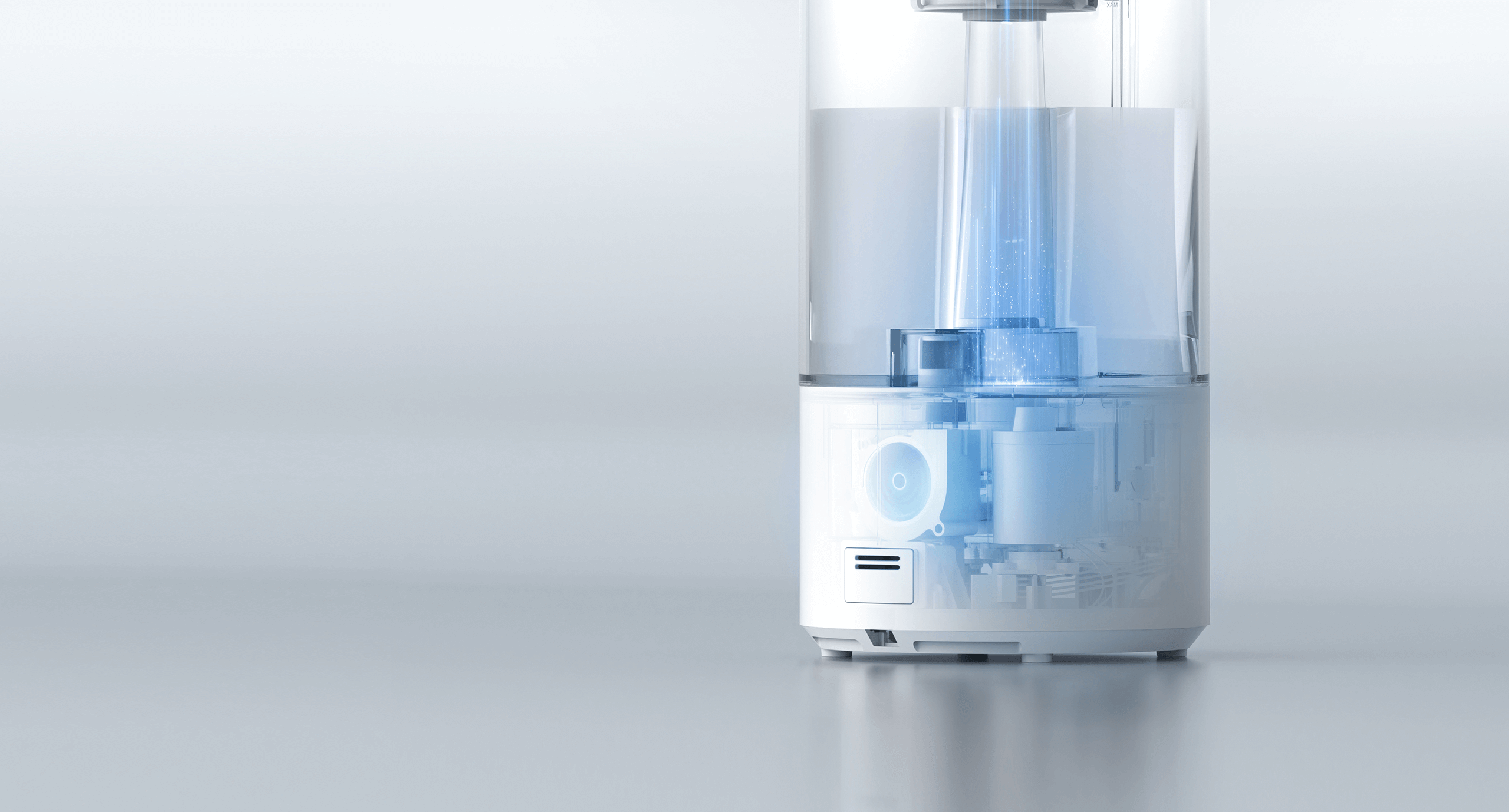 Releases up to 350 mL/h of mist for whole-room coverage
4.5L water tank for all-day operation
The humidifier releases up to 350 mL of ultra-fine water droplets per hour to prevent a dry indoor environment. Thanks to the large 4.5L tank, the humidifier can operate continuously for up to 32 hours without a refill.
continuous operation with full
tank capacity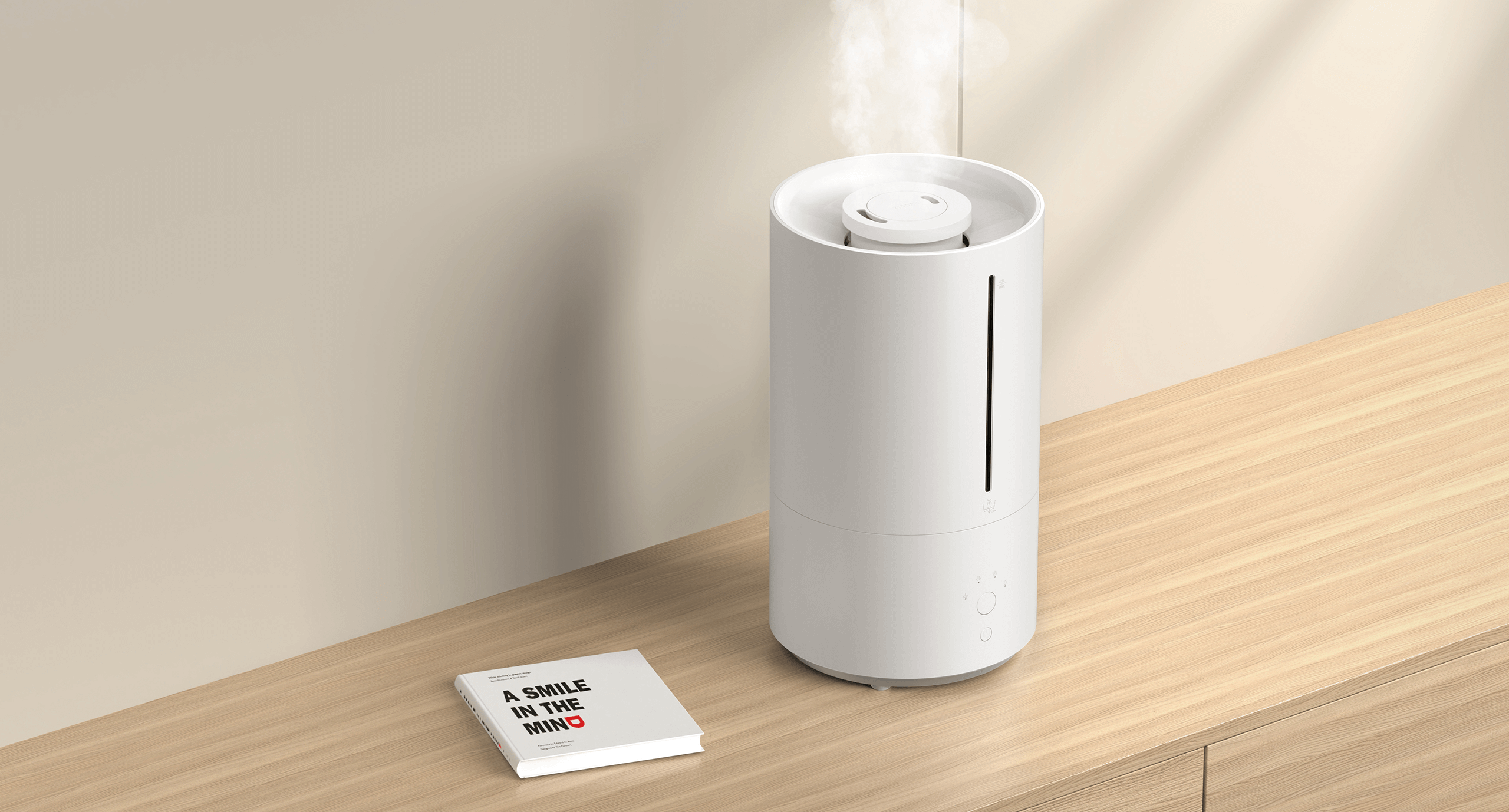 Maintain the perfect humidity Powered by smart technology
Quickly responds to changes in humidity to maintain a comfortable environment.
Automatic mode to prevent excessive humidity*
Mist output is automatically adjusted to keep humidity at optimal levels and prevent wet furniture.
Automatic mode is disabled by default and must be enabled in the Mi Home app. When the humidifier is operating at mist level 2 or 3 and the relative humidity reaches 85%, it will automatically switch back to mist level 1. When the relative humidity rises above 85% for more than 30 minutes, the humidifier will switch off automatically.
One touch humidity control

The humidity is automatically kept at 60% for optimal comfort. The humidity settings can be adjusted in the Mi Home app.
Connect to the Mi Home app to access the full range of functions, including the timer and mist output.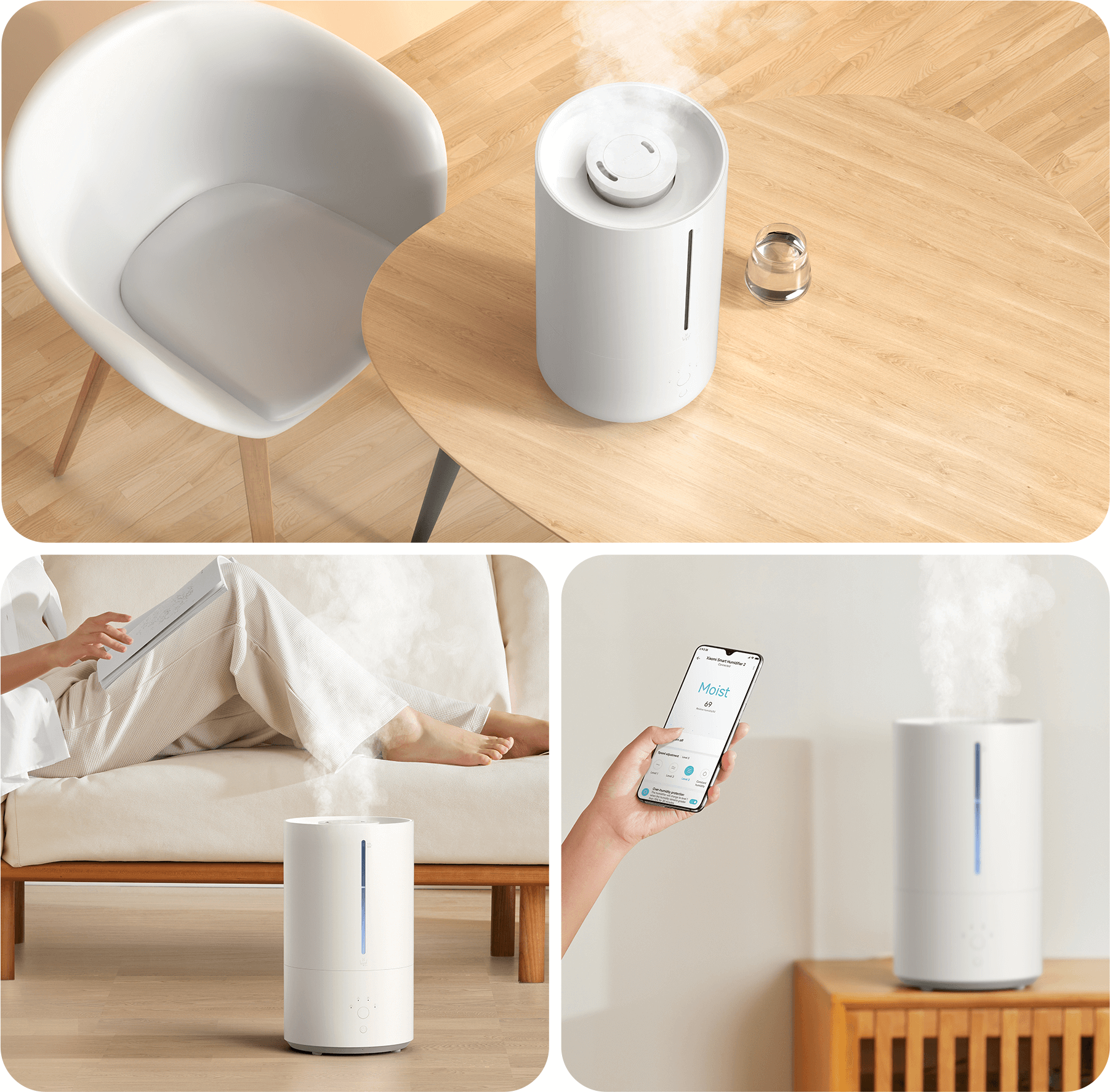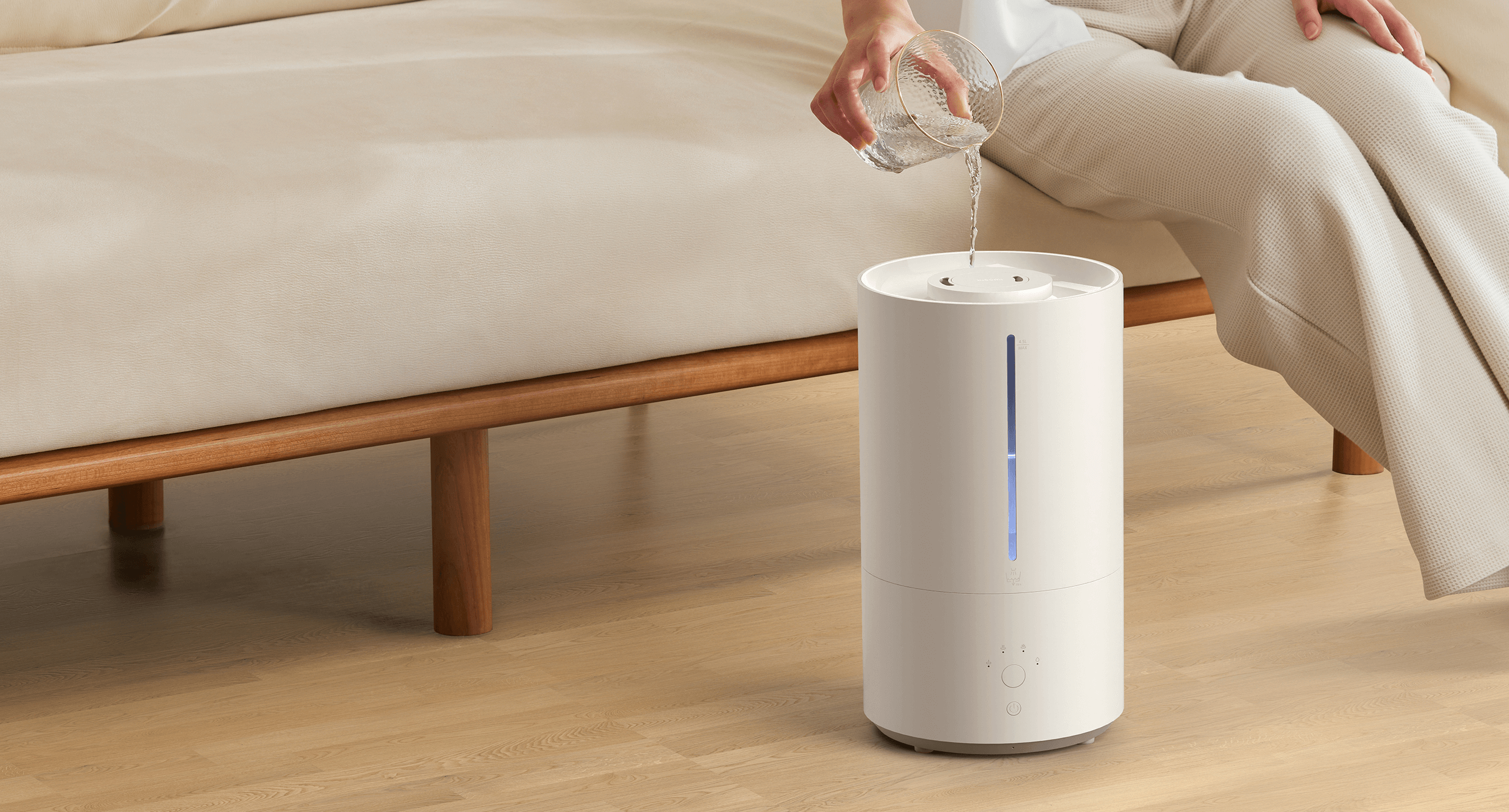 Easy to refill Add water without lifting the lid
Refill the water tank in an instant.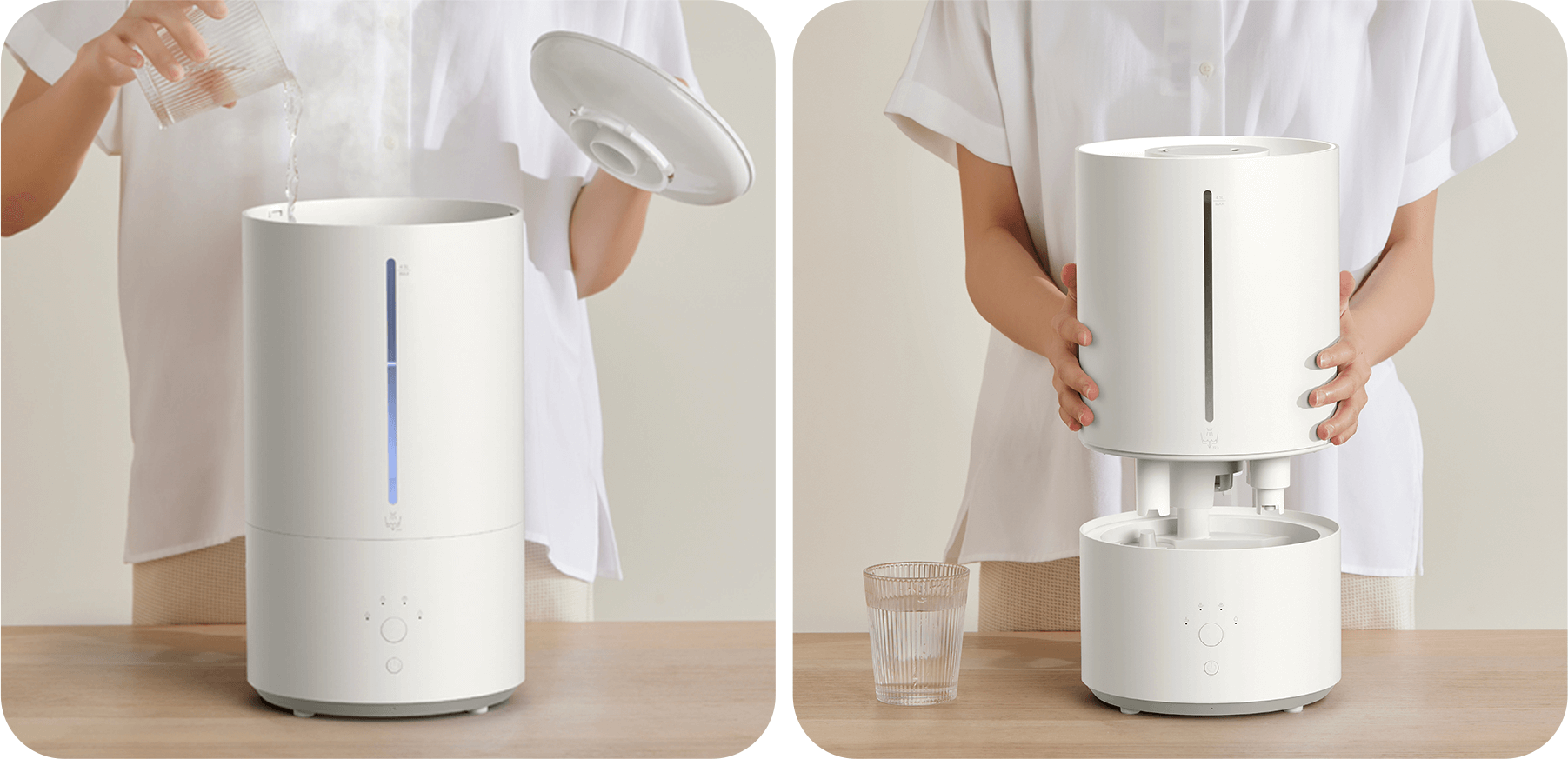 Lift the lid; 
Add water without removing the water tank
Lift the tank for cleaning or adding large amounts of water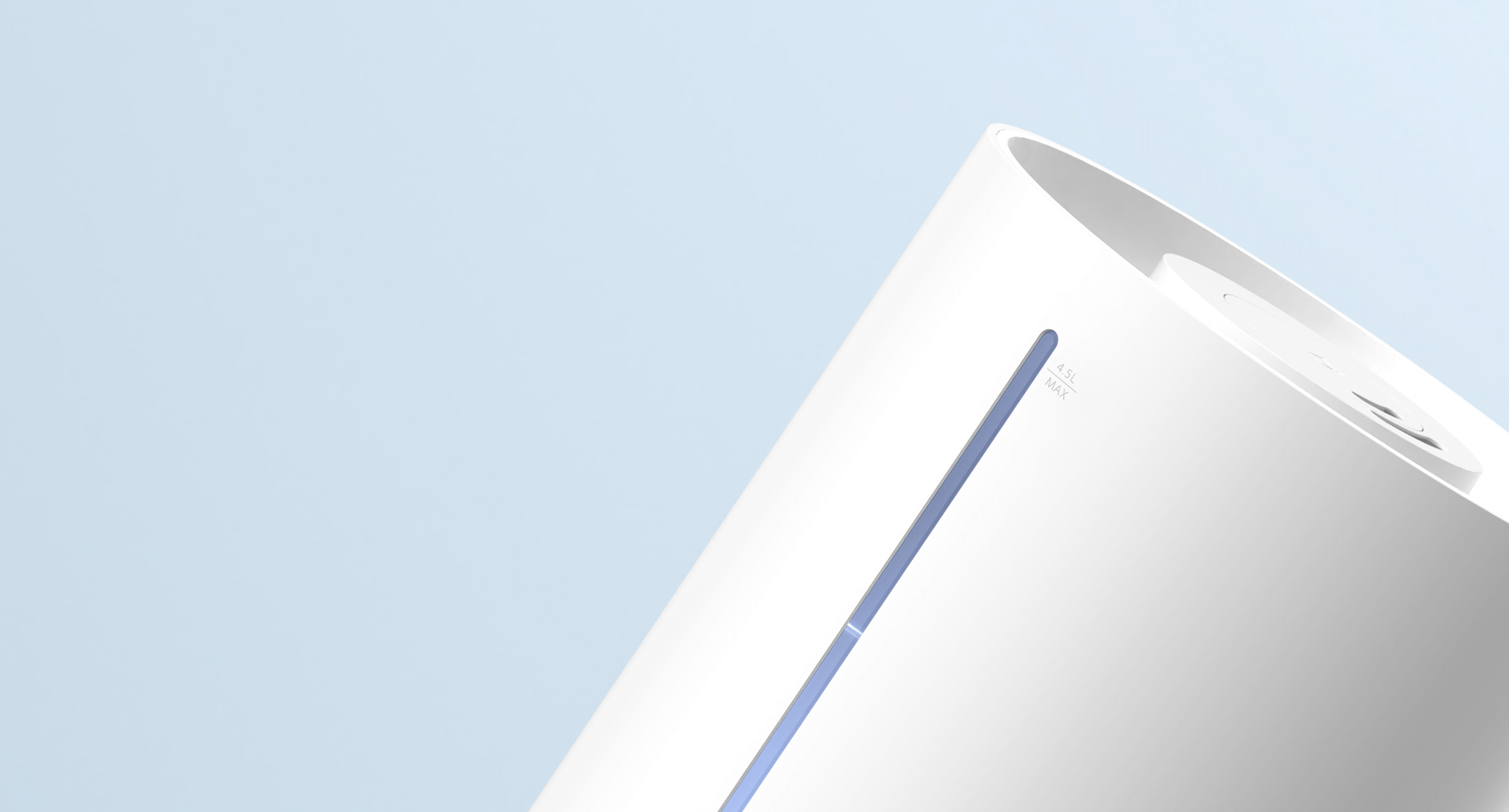 Transparent water level indicator Keep tabs on the remaining water level
The water tank features a transparent water level indicator so that you can keep an eye on the water level without lifting the lid.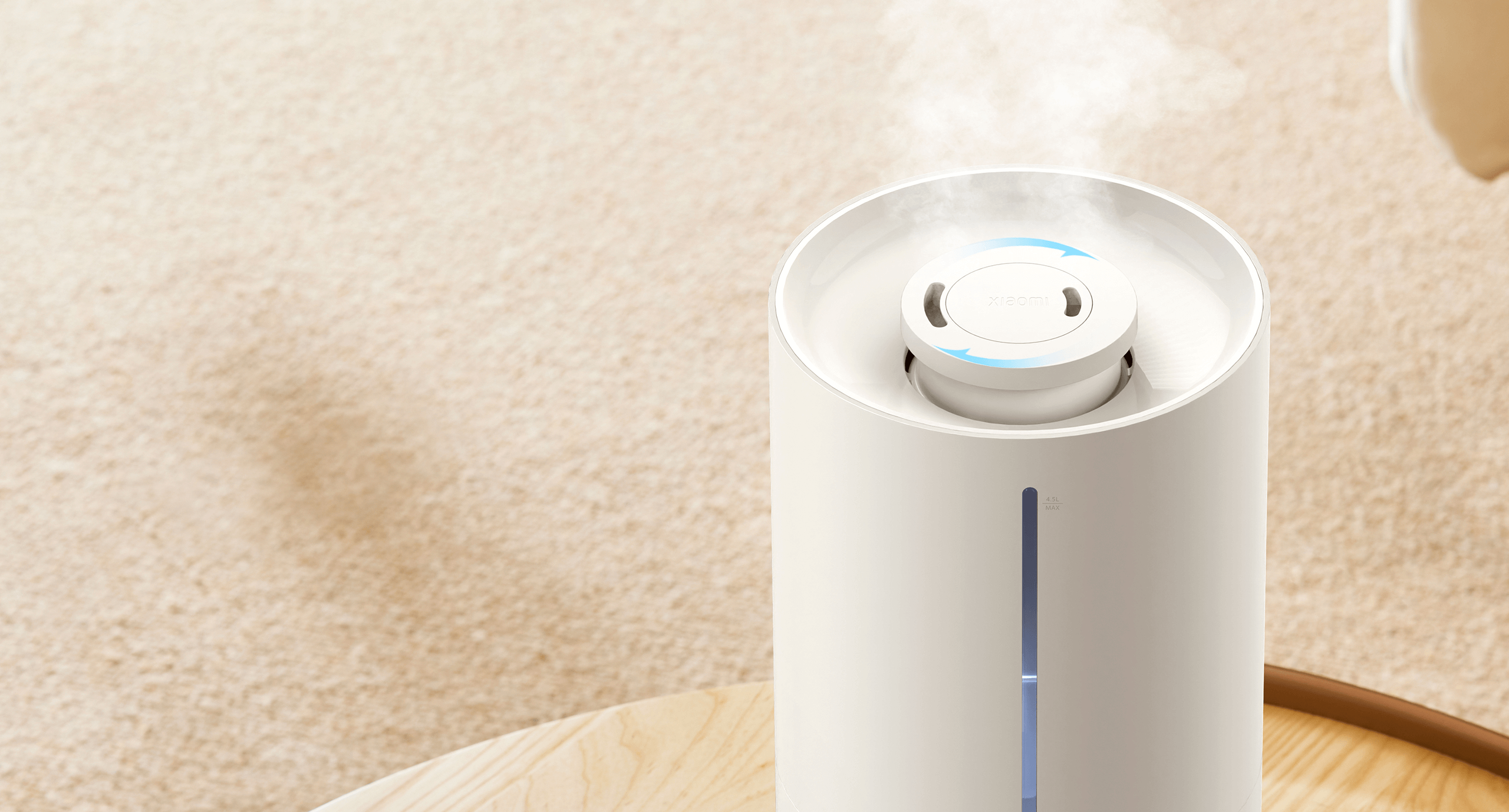 Dual rotating mist dispenser 360° rotation for whole-room coverage
The humidifier features a cutting-edge rotating mist dispenser, which rotates 360° to provide whole-room coverage without the need for constant repositioning.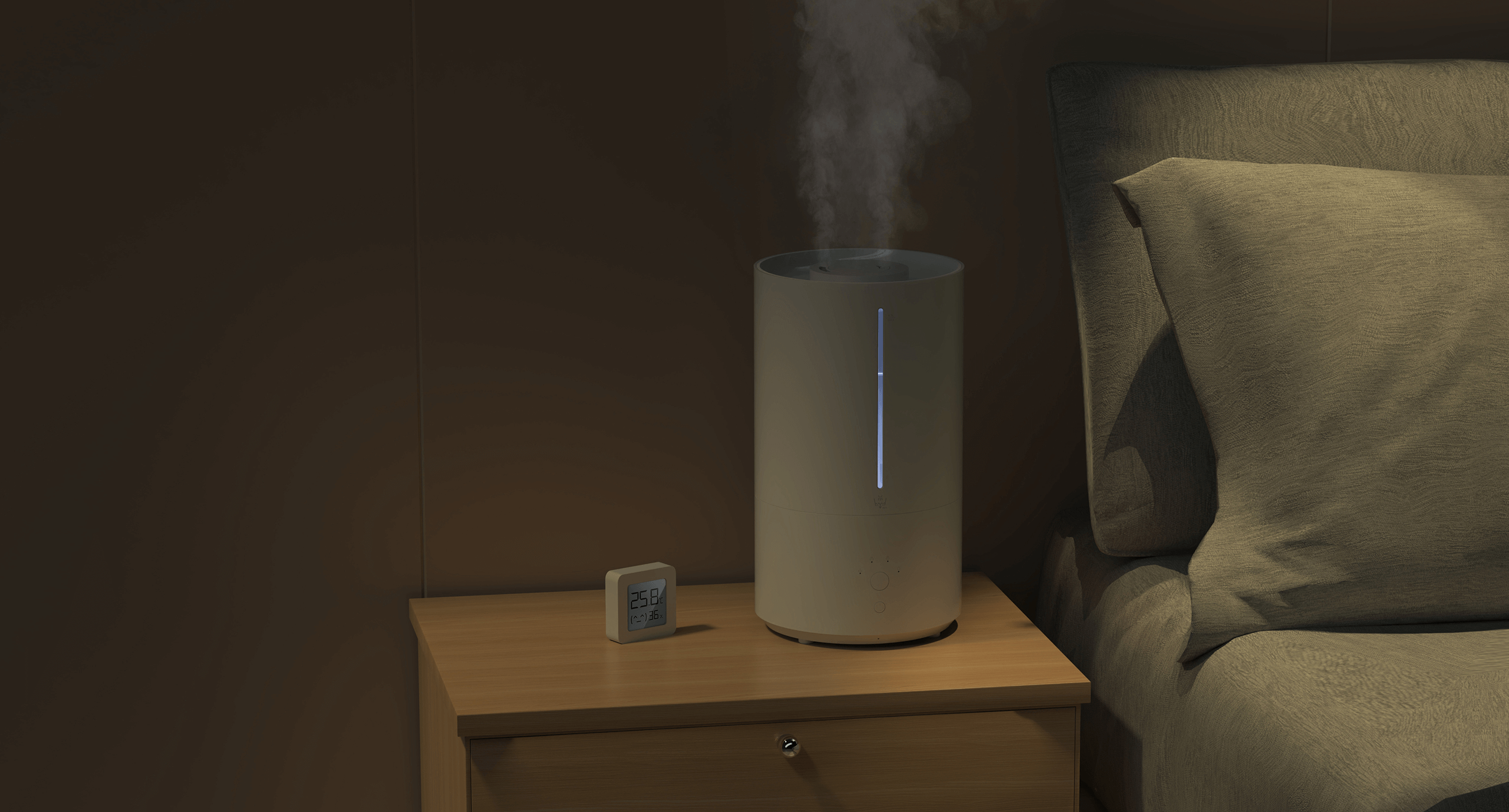 32 dB* whisper-quiet operation; Enjoy disturbance-free sleep
New floating plate structure moisturizes the air with minimal noise to ensure you get a good night's sleep.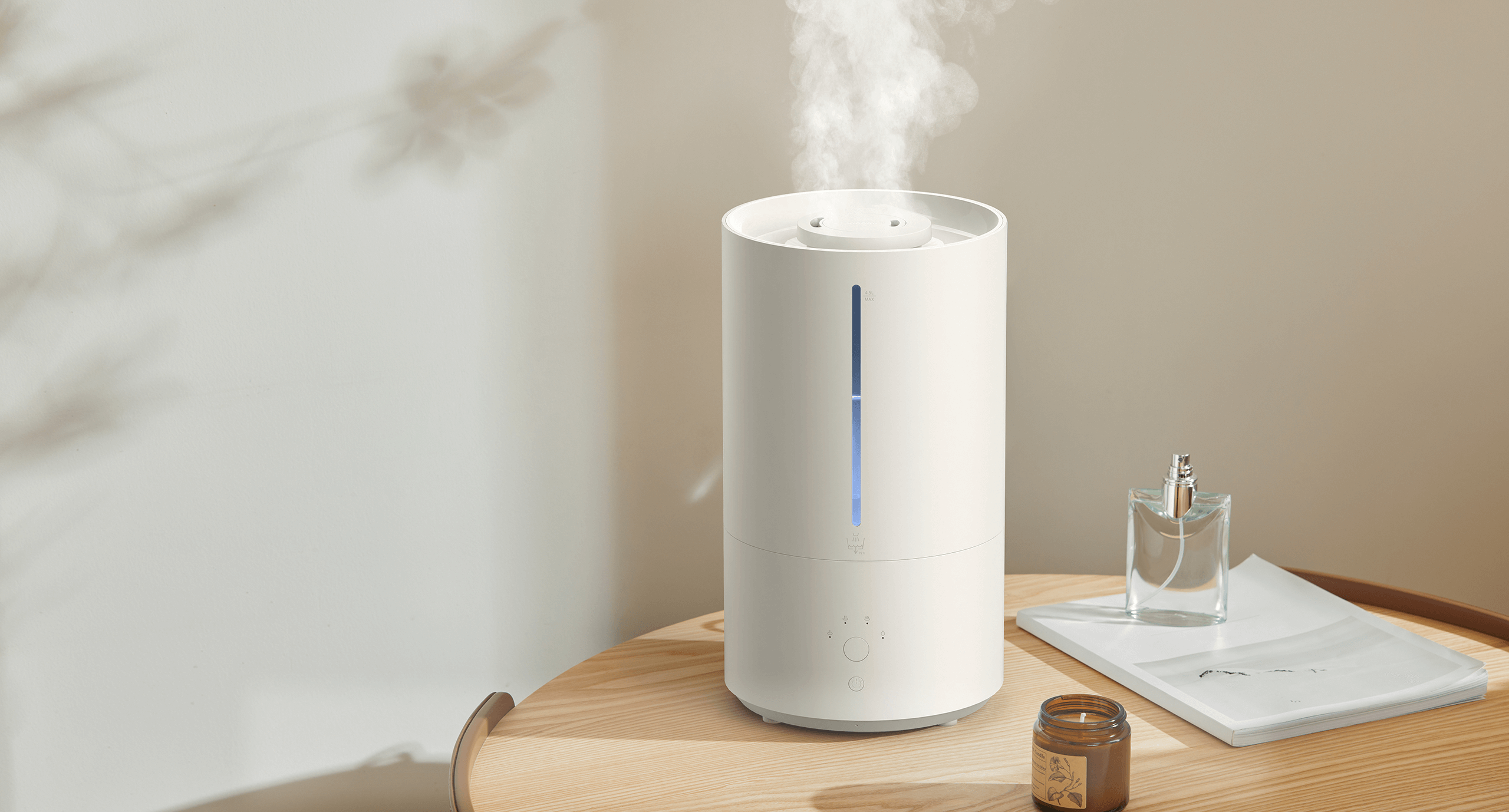 Aromatherapy diffuser* Create a soothing atmosphere
All-new aromatherapy diffuser infuses the air with essential oils to create a soothing atmosphere.
Aromatherapy oils must be purchased separately. To avoid damaging the device, do not place aromatherapy oils directly into the water tank or base.
All-in-one water tank Deep design to prevent spillages
Large diameter water tank For easy cleaning
Dual protection mechanism Automatically switches off when tank is empty or removed from the base
New floating plate structure ;Consistent moisture output and low-noise operation
---